About Well Dang! Productions
Founded in 2001 in Greenville, SC, Well Dang! Productions produces micro-budget films that celebrate stories unexplored, unusual and unlikely. Over the last decade, we have produced over 20 short films, three feature-length films, and several webseries. Our films have been screened in festivals across the United States, from Boston to Los Angeles.
The Well Dang! team is lead by South Carolina natives and the South is often a backdrop for our films. Our films are characterized by their quirky yet honest points of view, and our stories expose what is uniquely human and profoundly strange in situations both extraordinary and mundane. We allow the setting of a film to become a character in itself, and almost no region tells it own story like the South: Our beautiful, textured landscape; our unique cultural enclave; and of course our abiding love for grits speak for themselves.
Alex Wroten Creator/Director/Producer
Alex Wroten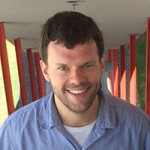 was born in Lafayette, LA where he lived with an unfortunate rat tail until he was 6. When his family moved to Greenville, SC he brought along a population of geckos that, 20 years later, still thrive in the gutters on his parents house. He studied music composition at USC and digital musics at Dartmouth College. He now lives in LA where he wishes it was easier to come by a good pecan pie.
Joe Worthen Creator/Actor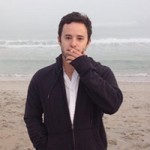 Joe Worthen was raised and educated in Travelers Rest, SC. He studied Media Arts at USC and received a MFA in Fiction from UNCW. Joe is serious about eating boiled peanuts and putting okra in his bloody marys.
Breanna Foister Actor/Producer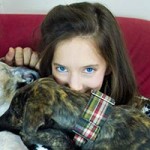 Breanna Foister grew up in Travelers Rest South Carolina where she was crowned Miss Pre Teen Corn Queen in the Corn Festival of '99. Before long she was starring as Wilbur in Charlotte's Web at the Easley Foothills Playhouse. Now she lives in New York with with two greyhounds. Breanna misses running into her parents' friends at Publix.
Lindsay Wolfe Producer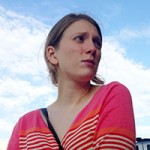 Lindsay Wolfe was born in Charlotte and grew up about a mile away from Carowinds in Fort Mill, SC. She studied print journalism at USC and television production at Boston University. She lives in Los Angeles, CA where she faces an uphill battle in explaining to people that tomatoes should be stored at room temperature and that it won't kill you to say ma'am or sir every once in a while.
Zoë Wroten-Heinzmann Producer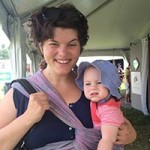 Zoë Wroten-Heinzmann lives in New Hampshire with her husband Kurt and children Clover and Rye. The only Southerner in a house full of born Yankees, she is pleased to report that one can indeed grow good peaches and sweet potatoes in the North; figs, however, don't quite get ripe.
Jason ElliottDirector of Photography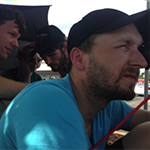 Born in Charlotte, N.C., Jason has traveled the country, and parts of the world, but has always called the South home. His career began in the broadcast industry, where he shot everything from sports and news to corporate events. 12 years and a Regional Emmy nomination later, Jason decided it was finally time to take the plunge into his true passion: film. He climbed his way up from PA to camera operator, and God Bless New Dixie is his first time taking over the Director of Photography role.
Shatareia StokesActor, GBND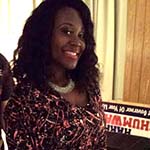 Shatareia Stokes is a Georgia native and a graduate of Georgia Southern University. She is known for her roles in the award-winning webseries The Lyons Den and Karma, New York Television Festival selection Dream Writers, the webseries Roommates, on which she both acts and writes, and she's also the host of the fashion series Diva Life and Style. When she's not barring her soul or stretching her comedic chops, Shatareia is active in her church, enjoys teaching fitness classes, dancing, shopping and traveling. Shatareia joined the project with GBND.
Jesse HamlinActor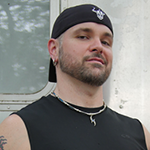 Jesse Hamlin lives in Greenville, S.C. and works as a fitness instructor and Pilates trainer. He has a background in musical theater and is always looking for new opportunities to flex his acting muscles. He loves to cook and enjoys shopping for new pieces to sprinkle into his Carther's wardrobe. Ahem.
Italo MedeliusActor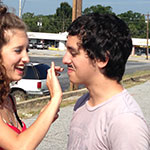 Italo Medelius is a New York-based stage and screen actor who has also worked throughout the Southeast. After studying screen acting at NYU's Tisch School of the Arts, Italo fell in love with film acting. When not playing JD, Italo works in New York as a theatre teaching artist for middle school children, boxes competitively with USA Boxing and is a television and theatre actor.
Chelsea Ann AtkinsActor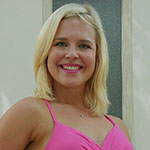 Chelsea Ann Atkins is a Greenville, S.C. native and a proud theatre graduate of Clemson University. She has been working professionally as a stage actor since 2012 and some favorite credits include, The Rocky Horror Show (2012/2015,Warehouse Theatre/Janet), Evil Dead the Musical (WHT/Annie), Avenue Q the Musical (WHT/Kate Monster), A Little Night Music (WHT/Anne), The Producers (Centre Stage Theatre/Ulla), A Funny Thing Happened on the Way to the Forum (CST/Phillia), and Lend Me A Tenor (CST/Maggie). Chelsea has performed in numerous other productions at The Warehouse Theatre, Centre Stage Theatre, Upstate Shakespeare Festival and Clemson University.
Michael SmallwoodActor, GBND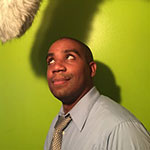 Michael Smallwood is an actor, director, and writer based in Charleston, SC. He is a two-time KCACTF regional award-winning playwright, a core member of Charleston's PURE Theatre, and a recurring cast member of the CBS television show The Inspectors. You can follow him online at www.michaelsmallwoodlive.com.
For additional bios or press inquiries, please contact us!